Franchise Marketing Platform: Stronger Together
This blog post was written with Franchisors' CEOs and CMOs in mind. It is especially relevant for industries with a high Customer Lifetime Value and, usually, higher cost per acquisition (Industry example: Finance, Legal, Insurance…).
It's a known fact that a successful Franchise offers more than just a strong brand, product or service. The secret often lies in the standardized business processes that help Franchisees deliver a consistent brand promise and user experience.
This is also true regarding the Franchise marketing efforts. Before the Internet came along, the Franchisor would focus on creating awareness through mass media, while Franchisees could promote their business locally, mostly using marketing collateral prepared by the head office. If territories were carefully delineated, the risk of having Franchisees compete against each other was unlikely.
In today's connected era, marketing practices have evolved. Any Franchisee can launch their own website, run paid search campaigns (on Google Adwords or Bing) and claim their business location on a multitude of directories, including Google My Business. Without technology, guidelines and procedures provided by the Franchisor, the digital marketing landscape of a Brand can become a nightmare, with overlapping efforts rendering investments highly inefficient.

Franchise Marketing Chaos 101

To illustrate the all-too-common scenario facing franchise marketing, we'll take the example of a fictitious company called "Great Insurance". In an ideal, and pre-internet era, a potential client might simply call the head office to get a quote or simply walk into a nearby insurance broker's office.
Thanks to the Internet, today's customer will usually search online for "Car Insurance" or even directly the company's brand name, in this instance: "Great Insurance".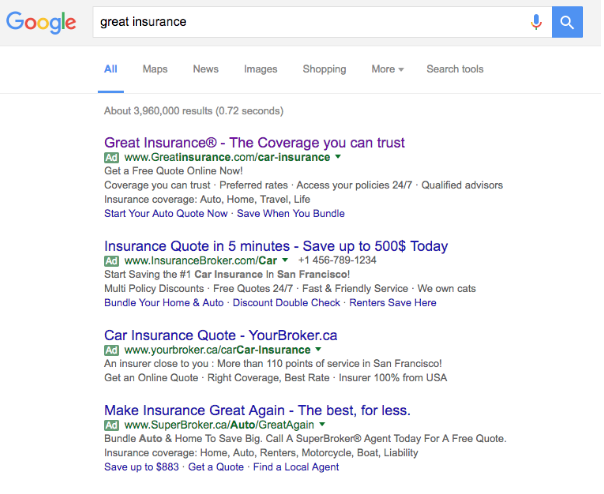 In theory, all the paid search results should be for competing brands, trying to outbid each other to win the click to their site.
The chaos appears when many results are from companies selling the same service. Instead of paying pennies for each click and being able to afford to appear for all potential customer's search queries, internal competition sets in, and only a fraction of the potential clients are reached, or in another scenario, these customers are reached but for a much higher cost per click.
Here is what the marketing budget could look like if Franchisor and Franchisees all bid for the company's Brand Name:


Scenario 1: Competing against each other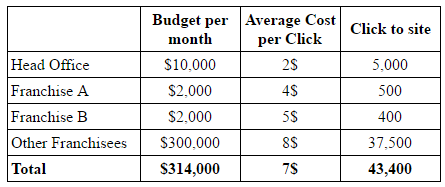 In the next scenario, we can see what happens if, using the same budget, only the head office bids on the Brand Name. Typically, this would direct visitors to a site with the Brand Name in the URL (www.brandname.com), and guarantee a much lower CPC.


Scenario 2: Only the Head Office bids on the Brand name





The above scenario is clearly more interesting than the one where there is internal competition. We see that the same overall budget has a much greater impact. But is this scenario ideal ?
What happens if we could offer the Franchisees the possibility to bid on the Brand name at the same price as the Head Office ?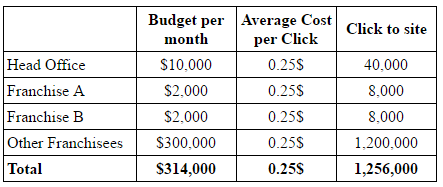 This can be achieved if:
Clicks are directed to a page specific for each Franchisee, ensuring that their marketing dollars are working for them. Example: www.brandname.com/FranchiseA
Budgets are managed through a centralized marketing platform, giving each franchisee a turn to bid on the Brand name.
All results are made available to the Franchise owners; transparency is the key to encourage them to pool their budgets together.
The above example illustrates clearly that a Franchise is stronger when all parties work together. This is real for "Brand" Keywords as well as "Broad" or "Long Tail" Keywords. In our above example, we would have:
Car insurance
Home insurance
Truck insurance New-York city
…
The solution: A unified digital marketing platform

The only way to be able to centralize the digital marketing efforts of all the Franchisees is to offer a simple yet powerful solution that keeps Franchisees up to date on how their budget is working for THEM.
Key features are:
Unified Web Based Dashboard: With different access at the Franchisor, Branch (Regional) and Franchisee level.
Ongoing learning center: To leverage and communicate the best practices.
Streamlined business process that fits with the company's current reality and terminology.
Support: Through an integrated FAQ section, Support forum and 1-to-1 communication platform.


Results: At the end of the day, it's all about the result, getting more for your money (clicks, leads or sales) and demonstrating better performance relative to the competition.


An extra bonus of a complete centralized Franchise Marketing Platform is the possibility to manage Local Listings like "Google My Business":
This allows measurement of key performance indicators: Click-to-call, Directions to store, Reviews…
Allow management and quality assurance of key information:
-> Store pictures
-> Store hours
-> Usage management (who can reply to reviews, who can manage pictures and store hours)
Strong bulk management features:
-> Add locations.
-> Edit specific info (store hours, holiday hours, pictures).
-> Undo changes in case of a mistake.
In Summary

Franchisors, by definition, have a responsibility to leverage the best solutions and procedures to ensure their Franchisees are the most profitable.
In today's connected world, technology must be at the heart of these procedures, especially to organize digital marketing efforts.
By offering a centralized Franchise Marketing Platform, Franchisors:
Increase competitive power, by reducing internal competition to benefit all stakeholders.
Reduce operating cost due to streamlined procedures.
Position their Brand as innovators
Increase their operational budget, the more Franchisees agree to pool their budgets and efforts through a centralized solution managed by the Head Office.


Are you interested in learning how a Franchise Marketing Platform can help your company be more efficient and competitive ? Drop us a line, we would love to help!
Image ©restaurantremodeloc